...and now, Page two
---
Shipmates Remembered
Association member SM2 Stephen Kraus (68-69) is a survivor of the HMS Melbourne-USS Frank E Evans (DD-754) collision at sea in 1969. Two other Reeves sailors were onboard Frank Evans at the time of the collision - FN Thomas Eaton and RD3 Jon Thomas. Of these three Ironment, only RD3 Thomas perished at sea. You can visit the Frank Evans Association at http://www.ussfrankeevansassociationdd754.org/index.html

Read the complete synopsis of this new book at the Namesake webpage. Our thanks and great appreciation to Tom Wildenberg for speaking at our Crystal City reunion.
Also. view photos from ADM Reeves' change of command ceremony onboard USS LEXINGTON (CV-2) on 22 August 1928.
Ship's Shield

This an original ship's plaque that was given to then LT Woodie Stegall, the commissioning Navigator in 1964. Back in the day, there was a Navigation Department and Woodie was the department head. Puget Sound Shipyard made sure that every department head received one of these unique items. Woodie has donated his plaque to us and it is now the property of the Association. We have now gotten the story behind it's survival. It took the 2009 Reunion in San Diego to finally get it straight. Click on the image to the left to see a larger version. See the Ship's Store about plans for producing a wall-mounted version of this plaque which can be seen on the photo image to the right.
____________________________________________________
What date was that?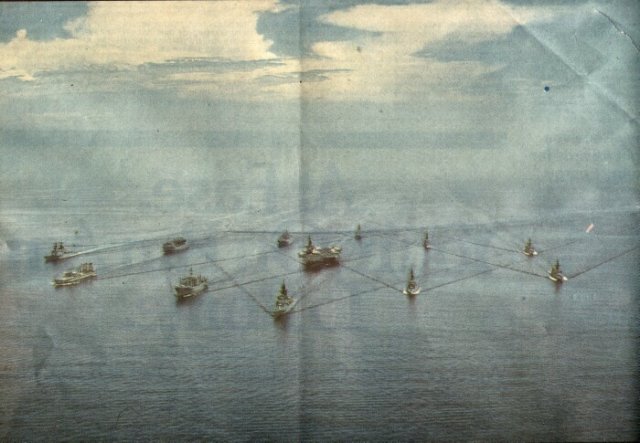 This Navy Photo was published in the Navy Times in 1985, and found in Jack Stewart's garage in 2009, I think - Jack didn't exactly say.
In Top Form
Aircraft carrier USS Midway (CV-41) and her battle group steam in formation in the Makassar Straits between Borneo and Sulawesi Celebes. Leading the group, directly in front of the USS Midway, is USS Reeves (CG-24), and clockwise are: USS San Jose (AFS-7), USNS Mispillion (T-AOE-105), USS Oldendorf (DD-972), USS Kansas City (AOR-3), USNS Kilauea (T-AE-26), USS England (CG-22), USS Towers (DDG-9), USS Kirk (FF-1087), USS Knox (FF-1052) and USS Cochrane (DDG-21).
However,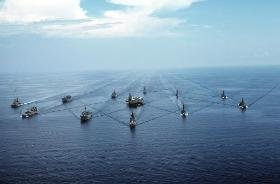 According to DefenseImagery.com, this photograph was taken on 9/28/1987. It is an aerial port bow view of Battle Group Alfa underway. The ships are: (clockwise from center front) the USS REEVES (CG-24) , USS SAN JOSE (AFS-7), USNS MISPILLION (T-AO-105), USS OLDENDORF (DD-972), USS KANSAS CITY (AOR-3), USNS KILAUEA (T-AE-26), USS ENGLAND (CG-22), USS TOWERS (DDG-9), USS KIRK (FF-1087), USS KNOX (FF-1052), USS COCHRANE (DDG-21), and USS MIDWAY (CV-41) (center).

Think they're the same photo? Me to.
Editor: In the 17 years that USS Midway was forward deployed to Yokosuka, Reeves spent more than just couple of years with her. The Yokosuka carrier group was designated Battle Group Alfa in the mid-1980's. The top photo seems to correlate with photo information on the USS Kirk website that is dated 9/28/1985. The same photo can be found at the USS Knox website. It is probable that the Kirk, Knox and Reeves didn't steam together for two years. The lower 1987 photo from DefenseImagery.com is probably misdated. Even the year published on GlobalSecurity.com, 1987 (1985?) is openly questioned. Meantime, we continue to pursue the evidence. There are always a couple more sites to check...
The Rest of the News...
We are also providing you with information about the Reeves crewmembers who are in contact with each other, wish to contact each other or just didn't know that such a thing was possible. Check our crew roster or the deck logs to find your buddies. Contact the webmaster for email or snail mail information.
Interested in joining our association? Are you a former crewmember, or a Leahy Class destroyer (cruiser) double-ender lover, or just like real Navy ships? Then fill out the application and send it to

Michael Rober

t

son

.
A few
years ago
, there wasn't any association. We now have charter members that want an association with reunions and can be found on the member web page. You need to check it out and join us... Believe it or not, we are

once again

planning our

next

reunion. Go the the Reunion page to find out all about it.
© 2011 USS Reeves Association. All rights reserved. Last update: 10/17/2011